The AccuLawn Basic Program
Five timely weed and feed applications along with a preventative grub control and lime to keep your lawn looking healthy all year long.
Application 1: Promotes early green-up and winter stress recovery. To kill weeds before they surface a preemergent weed control is applied.

Application 2: Improves your lawns color, density and promotes continued root developement.

Application 3: Is specifically formulated to help fight mother natures stressful conditions. Grub controls are also applied to prevent one of your lawns most destructive insects. 

Application 4: Maintains your lawns beauty and controls weeds active during this season.

Application 5: Promotes root growth and food storage essential for your lawn to survive the winter.

The AccuLawn Comprehensive Program
Six all inclusive and timely applications to develop and maintain your lawn at an optimal level. We have expanded on our Basic Program and added the most requested and needed services.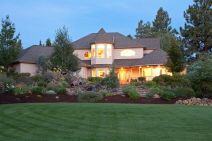 Fungus Control
Surface Insect Control
Power Aeration
Seeding at 2lbs per 1,000 sq. ft.

The AccuLawn Ornamental Tree & Shrub Program
Five timely applications that keep your plants growing insect and disease free. AccuLawn combines horticultural oil, foliar and root injection fertilization, disease and insect control, while utilizing integrated pest management techniques to customize your ornamental and shrub program.

The AccuLawn Flea and Tick Control Program
Four applications spread evenly throughout the year to significantly reduce Flea and Tick populations.

The AccuLawn Deer Control Program
This is an animal safe repellent that discourages deer from eating your plant material. The product  has an offensive taste and odor that force the deer to take your property off thier eating schedule.